The Susan Greenbaum Band Supporting the Richmond Brain Tumor Support Group
May 26, 2016
|
0 comments
Date:

May 26, 2016
Time:
Price:
Type:
Susan has won several national songwriting awards, most recently the Smithsonian Songwriters Award and the Philadelphia Songwriters Project songwriting contest. She was also the Grand Prize overall winner of the Mid-Atlantic Song Contest and also the second-place overall winner in the same contest—the only time in the contest's three-decade history that the same artist had won multiple overall prizes. Several songs from Susan's "Wake Up!" CD were finalists in the John Lennon Songwriting Contest and the U.S.A. Songwriting Contest. Susan was voted "Best Singer and Songwriter" in Richmond, VA's 2011 and 2012 Style Weekly "Best Of" issues and was identified as one of 50 major players on the area's music scene by Richmond Magazine.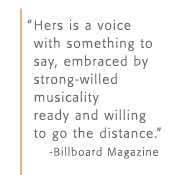 Susan won a national competition to be the opening act for recording star Jewel, chosen by industry professionals and over 100,000 online voters. Susan enjoyed overwhelming success on the tour across the Northeast, welcoming thousands of new fans. She and her band were also among select acts picked to perform at a recent Virginia Governor's Inaugural Concert.
Susan draws big, enthusiastic audiences who delight in her lively, diverse and powerful performances. Thanks to the internet, she has fans on every continent. She performs solo and with her band and has appeared at such venues as The Bottom Line in NYC, The Birchmere, Bethlehem Musikfest, Floyd Fest, and Rams Head Tavern. In addition to touring with Jewel, Susan's credits include performing an acoustic set with Dave Matthews Band violinist Boyd Tinsley; sharing bills with Jill Sobule; and opening for Kenny Loggins, Patty Griffin, Dar Williams, Janis Ian, Todd Snider, Jim Messina, Tuck and Patti, Iris DeMent, Lucy Kaplansky, Lloyd Cole and Catie Curtis. Susan also endorses W.L Gore's Elixir Strings. The most frequently heard comment at her gigs is, "Great songs–and how does all that big, beautiful sound come out of someone under five feet tall?" Find out at www.susangreenbaum.com.
Tickets will be at the door only and all proceeds will be going to The Richmond Brain Tumor Support Group.
Show starts at 7:00